About The Cloud Castle
Create a safe, large, and engaging play space with the Cloud Castle foldable playpen by Fortella. Protect your baby from potential hazards around the house and provide them with a wonderful independent play experience. Spacious enough for you to join your child in their play.  
Key Features
Folds up to a compact size for easy transport
Whiteboard on the back of the door panel that sparks your child's creativity
Activity wall with 5 sensory toys for different developmental stages
Pre-assembled and customizable shape
Expandable with 4-panel extensions
Made of food-grade HDPE and certified in CPSIA & ASTM
Free from BPA, PVC, phthalates, lead, latex, and formaldehyde. No sharp points or edges.
Ages: 6 to 36 months
2021 Winter New Model
The Cloud Castle
The Cloud Caslte is pre-assembled out of the box. Simply expand the folded panels into your desired configuration and tighten the hinges to fix. You may use the tightening tool included in the package to help stabilize.
Extension Set
1. Loosen and remove one hinge connector.
2. Pull one panel up from the base.
3. Snap in the extension set.
4. Tighten all hinge connectors.
14-panel
Square (in): 60''L x 60''W x 24.4''H
Circle (in): 77''D x 24.4''H
Folded (in): 28.6''L x 11.6''W x 24.4''H
18-panel (Cloud Castle + 1 extension)
Rectangle (in): 88.4''L x 60''W x 24.4''H
Individual panels
Small Panel (in): 14.2''L x 24.4''H
Gate/Activity Panel (in): 28.6''L x 24.4''H
Food-grade HDPE plastic. Free from BPA, PVC, Phthalates, Lead, Latex, and Formaldehyde. CPSIA & ASTM certified.
Wipe clean using a damp cloth with mild detergent as needed.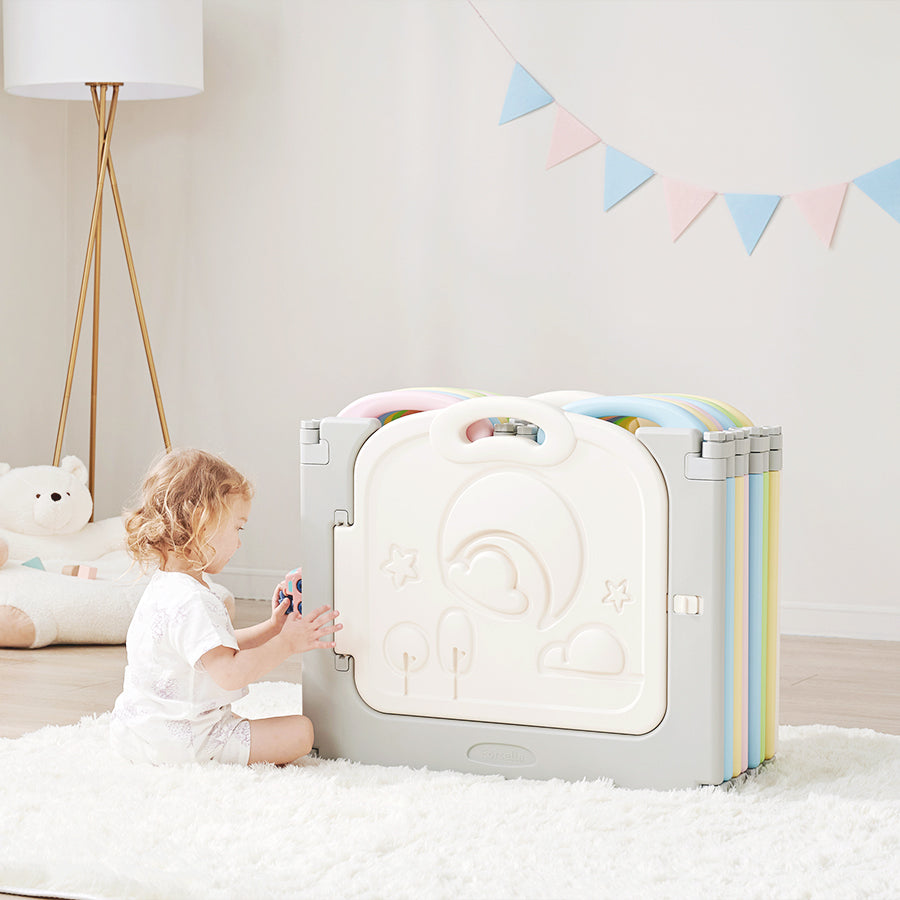 Foldable
Easily folds up to a compact space. Throw it into the trunk for family trips.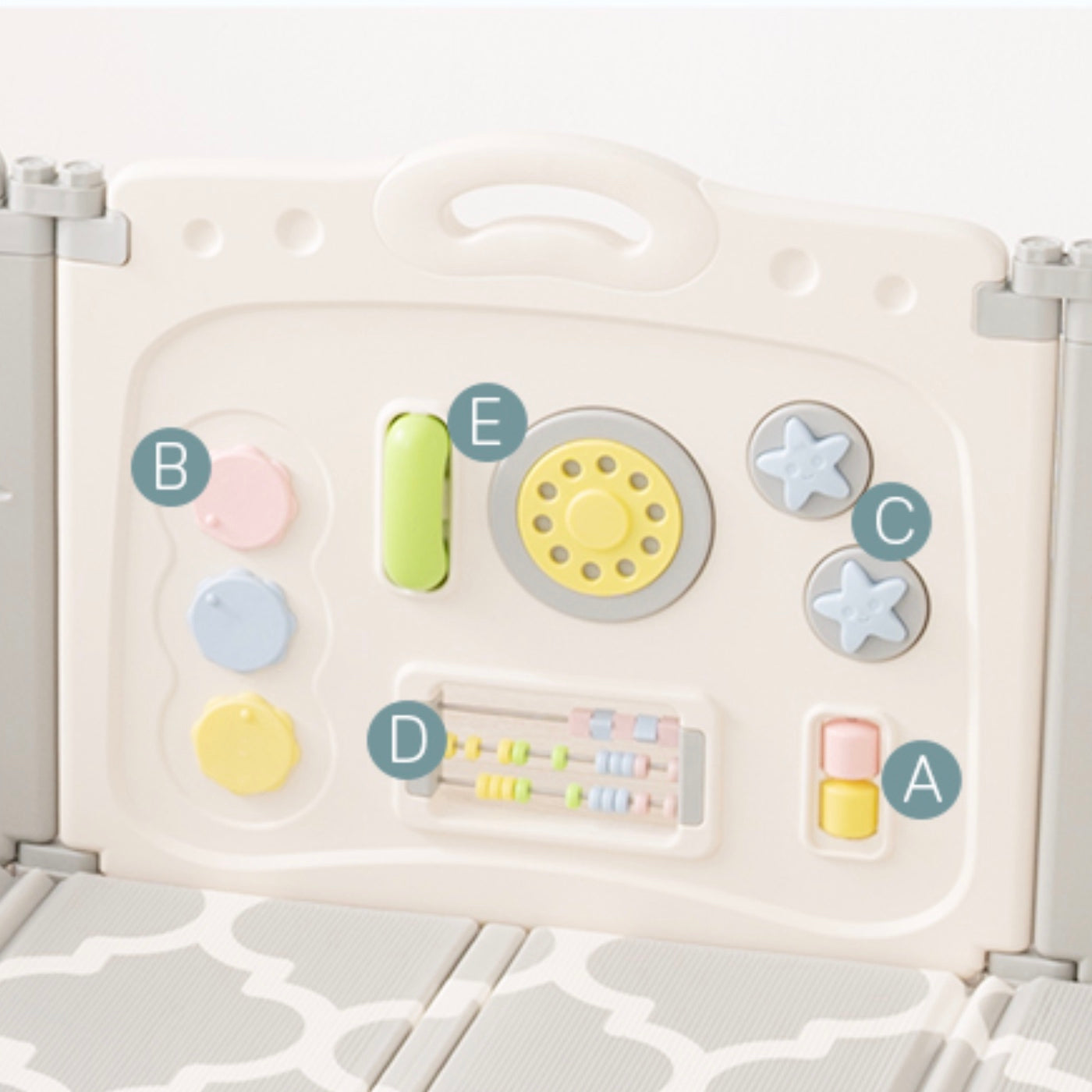 Activity Wall
The Cloud Castle includes an activity wall with 5 sensory toys for your child's different developmental stages.
A. 6 months: Practice hand-eye coordination with rollers.
B. 8 months: Improve fine motor skills rotating gears.
C. 10 months: Understand cause and effect with sound buttons.
D. 12 months: Introduce the idea of counting with the abacus.
E. 24 months: Engage in pretend play with the dial phone set.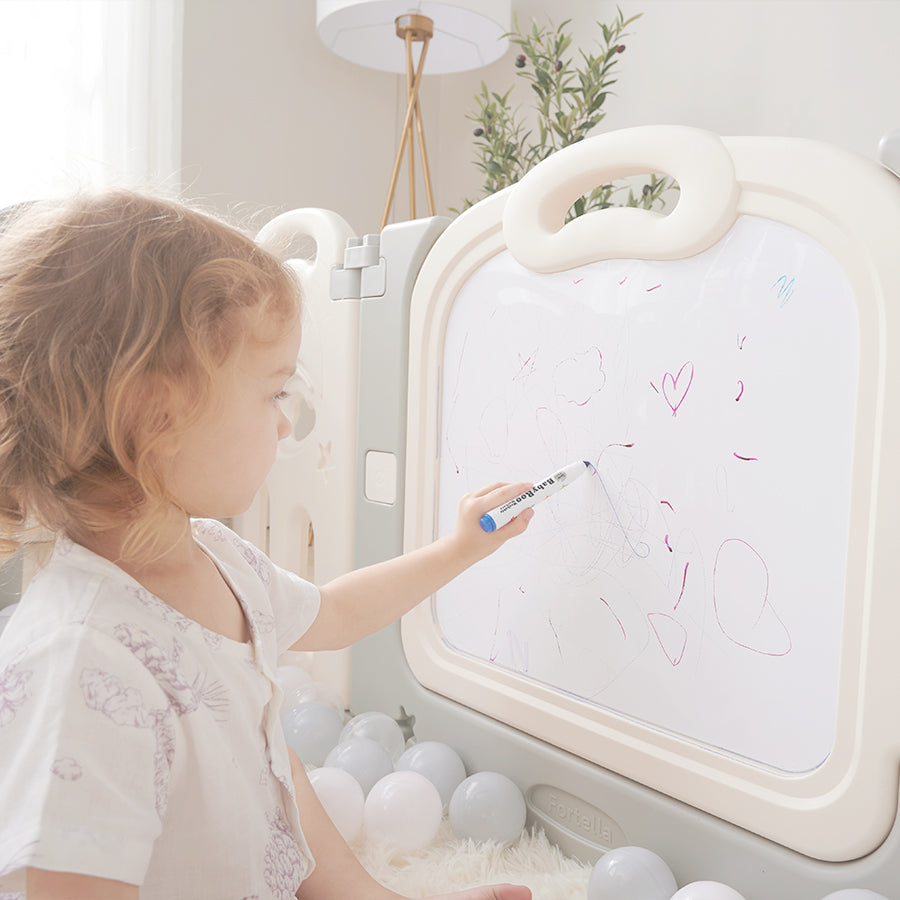 Whiteboard
Drawing is recommended by pediatricians to be one of the most effective methods for nurturing your child's developing brain. Its benefits start with motor skills, visual perception, attention span, and grow into self-confidence, problem solving, and creativity.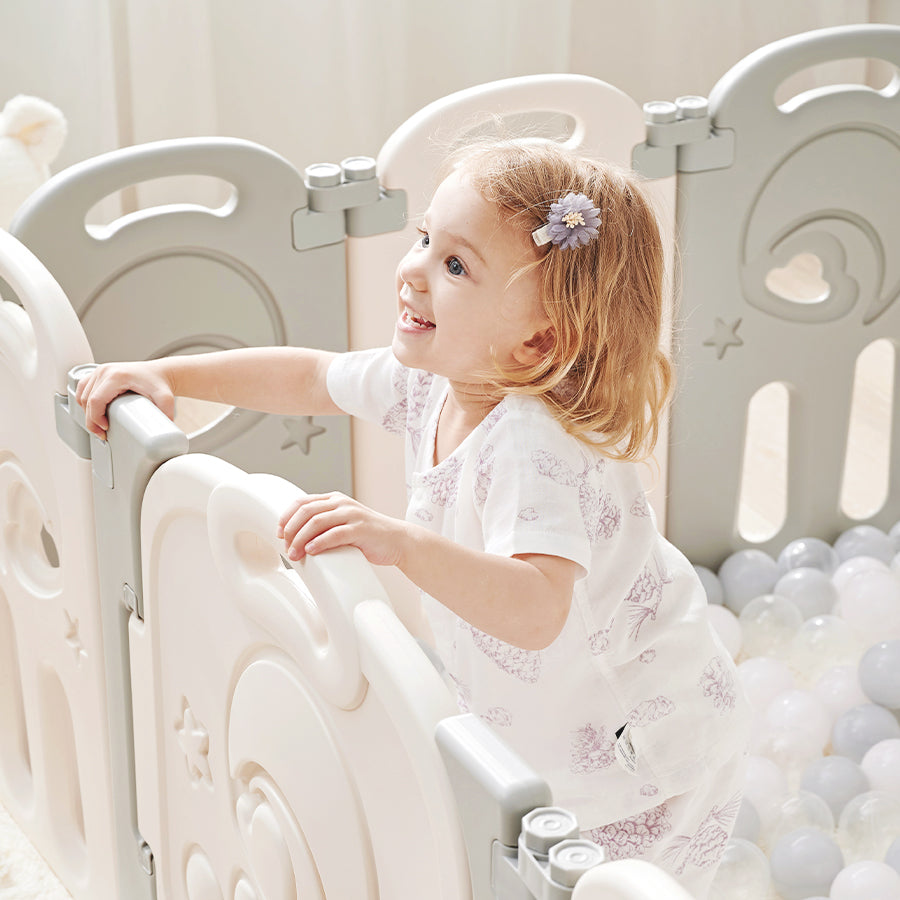 Safer Option than Walkers
With ergonomic handles on every panel, the Cloud Castle becomes an ideal alternative to baby walkers. Walkers are banned in countries including Canada due to their inability to prevent injuries. Studies even show that they may delay mental and motor developments.
While playing in the Cloud Castle, babies can pull themselves up and move along the smooth edges properly supported and guarded, activating the right muscles critical for walking.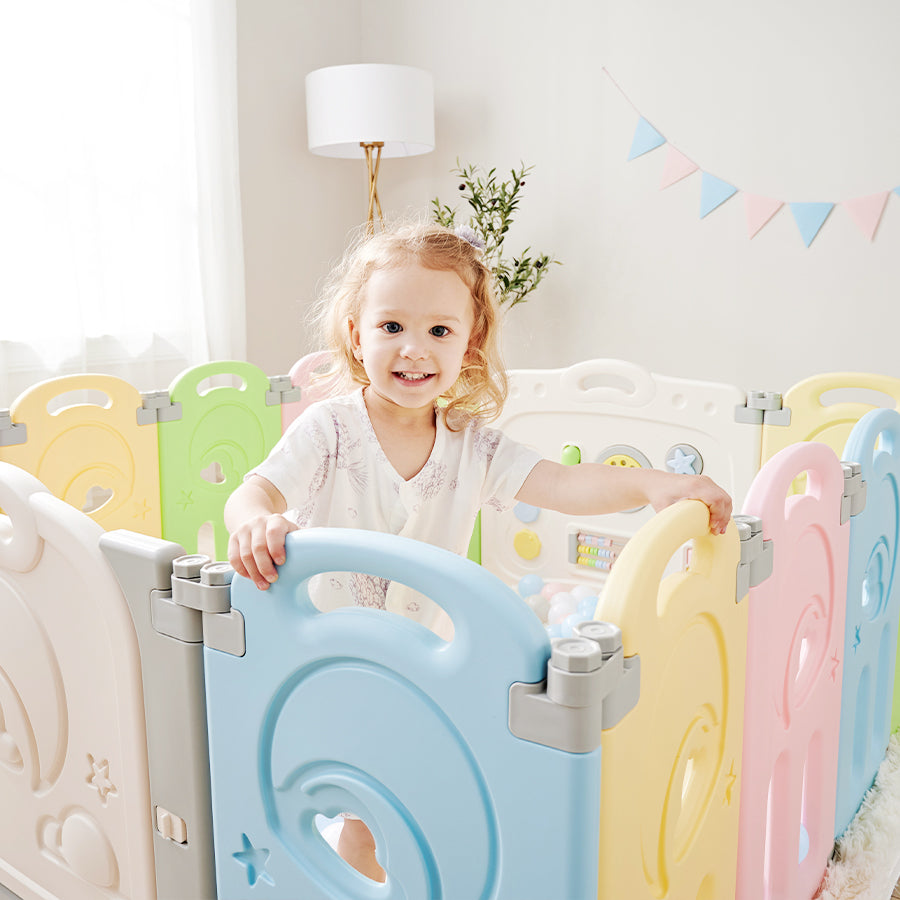 Eliminates Limb Trapping
The Cloud Castle is specifically designed so that its openings are properly spaced to prevent trapping of children's limbs, while allowing a right amount of visibility into the play area.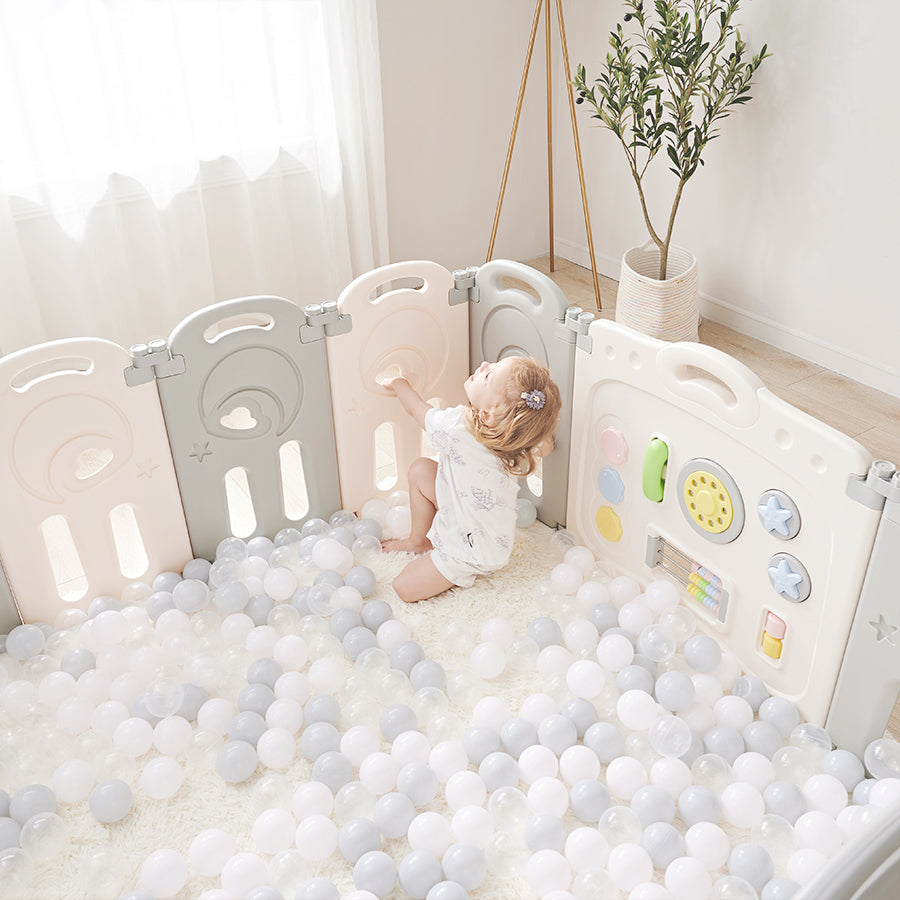 FREE 2-Year Warranty & Lifetime Supoort
Buy with Confidence. We will always stand behind our product to earn your satisfaction.
Yes and yes. You can adjust the Cloud Castle to any enclosed shape you want (rectangle, circle, L-shape, etc). You can also make it smaller by removing panels unneeded.
Yes. As long as it is placed on a flat surface, the Cloud Castle is safe to use outdoors.
The Cuddle & Learn Play Mat by Fortella fits perfectly under a 14-panel square or inside an 18-panel rectangular Cloud Castle.
Although the hinges can be tightened with bare hands, we recommend using the hinge tightener included to stabilize them when your child starts to move along the edges.
If your playpen has 3 vertical openings on each small panel, then it is the old model Cloud Castle. New models have 2 vertical openings instead.
Extensions for the old model are sold here. If you have any other questions, please also do not hesitate to contact us.
Be aware
I bought the Fortella cloud castle playpen for my daughter. And Im shocked and mad with the product my 11 months old managed to get out of it yesterday thank god I was in the kitchen and I saw her crawling or god knows she could've fell down from 20 stairs if I didn't see her crawling. The screws never stay tight every time she pull herself up to stand, all the screws get loose. A safe playpen shouldn't be like this it shouldn't require us to tight the screws every 5 minutes. Yea its a cute playpen but better to have a safe space for your child.
Cute Playpen
Very fun colors. Baby love playing in it. Very versatile since it can be expandable. Easy to assemble and clean. Kind of heavy to move around the room though. So, it will just stay in the living room for now. No funny smell.
Great Play Pen & Mat Combo!
I love this play mat and matching playpen! So easy to put together and the mat is so easy to wipe clean (although dust can gather between its folds).
I also love the Moroccan pattern and the fact that the colors are neutral yet classy :)
Best purchase!
I have twins 4 years old and a 9 months old baby girl and The Cloud Castle is a game changer. We bought 4-Panel Extension to larger size because we wanted the kids to be able to play together, and they do! Happily!
I can get things done around the house, or just put the little one somewhere safe if I need to get ready in the morning.
I love how easy it is to fold up and put away. It is large and worth the space so that my kids don't get bored too quickly inside of it.
My kids love it! My little girl loves to use the phone and enjoy the toys panel. We also have the Cuddle & Learn Play and I have to say that this complete set with a Foldable PlayPen are our save life's my baby is safe and she feel peaceful and sometimes take short naps inside.
We can't wait to buy the Foam Pit with balls to get more fun for them.
Awesome set up
We bought this for our 9 month old and she loves it. She has the space to move around and we have the relief that she is safely contained away from our dogs and any household dangers. She loves the toys on the panel and could not be happier to be in her cloud castle.
Best Baby Fortress Ever
My kiddo is just over 7 months and army crawling all over the place. This fortress keeps him safely contained and in one spot while I can go and get coffee started or need just a moment to fold laundry or breathe. He figured out how to spin the toys and is now pulling up to stand using the sides! This thing is so versatile too, smoosh it to fit in any spot! 10/10 recommend. Plus, US made- let's support our local economy all!
A must buy!!
We love that our 9 month old baby now has a safe place to crawl or stand up without worrying of her getting hurt. She loves it. Don't hesitate to buy.
So easy to install and sturdy. So much to keep the baby entertained and safe. Beautifully designed
Love this play pen
I love this play pen it is so versatile and flexible it works great in my office for my 9 month old who is on the move it is also perfect out in the yard. It's so easy to set up and fold up to store or move. Love all the round edges so baby can't get hurt.
fits perfectly
Fits our needs perfectly. Love the colors and soft tone. My baby especially loves the phone.