About The Cuddle & Learn Play Mat
Create a Montessori movement area for your child with the Cuddle & Learn play mat by Fortella. The safest foam mat ever designed that guarantees Formamide free. Features a minimalist moroccan pattern that enables visual activation without overstimulation. Reverse it to a nature alphabet pattern for language development starting from 14 months.
Key Features
Foldable and portable
Water and marker proof
One-piece and anti-slip
100% formamide-free IXPE foam
Extra large and thick (

71.5''L x 70''W x 0.6''T)

Includes a heavy-duty travel case
Ages: 3 months+
Size (in): 71.5''L x 70''W x 0.6''T
Folded size (in): 35''L x 14.3''W x 6.3''H
Foam: 100% IXPE
Lamination: TPU
FREE from PVC, EVA, BPA, Phthalates, Lead, Latex, and Formaldehyde.
To maintain, wipe using a damp cloth with mild detergent. Please do not place heavy objects on the mat as it may leave unrecoverable dents.
Why do we care so much about Formamide?
NO Formamide- an exclusive promise achieved by using IXPE foam instead of the market common XPE/PVC/EVA foams
Formamide is a substance that can cause irritation to skin, nose, and throat. It should be absolutely avoided when purchasing products for your baby. The EU toy committee established a limit ban on Formamide in 2017, but currently there is no equivalent regulation in the US.
Our mat is also FREE from PVC, EVA, BPA, Phthalates, Lead, Latex, and Formaldehyde.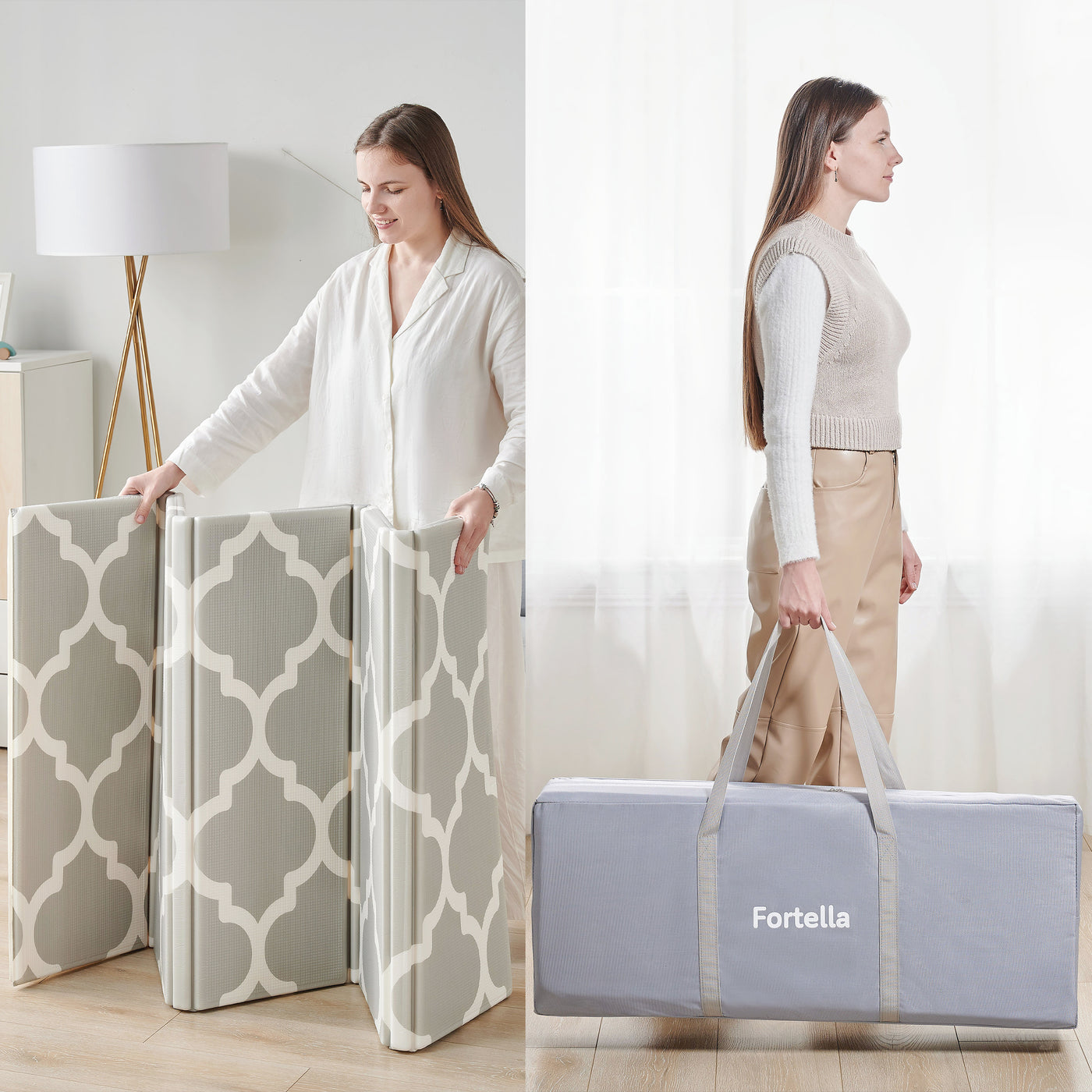 Foldable with Travel Case
Lightweight mat that packs up in seconds. Includes a heavy-duty travel case with carry strap for portable needs.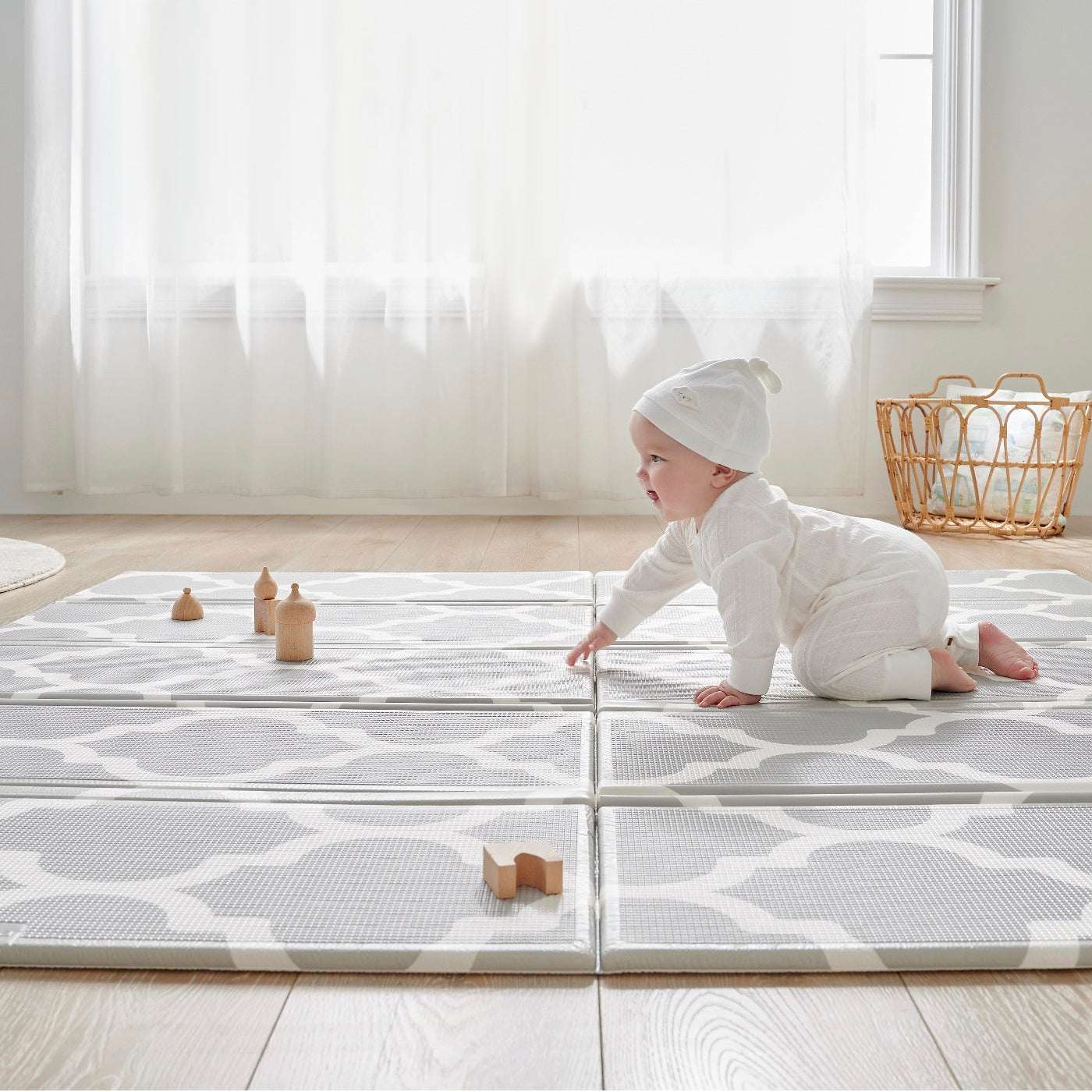 Pattern 1
Minimalst Moroccan
For infants in their first 6 months, it is suggested by the Montessori Method to follow the "Less is More" principle. While your baby's visual capabilities are still developing, a simple, high-contrast gray and white pattern is just enough to enable visual activation without overstimulation. We want to avoid complex colors or pattern which may distract and overtire your baby at this stage.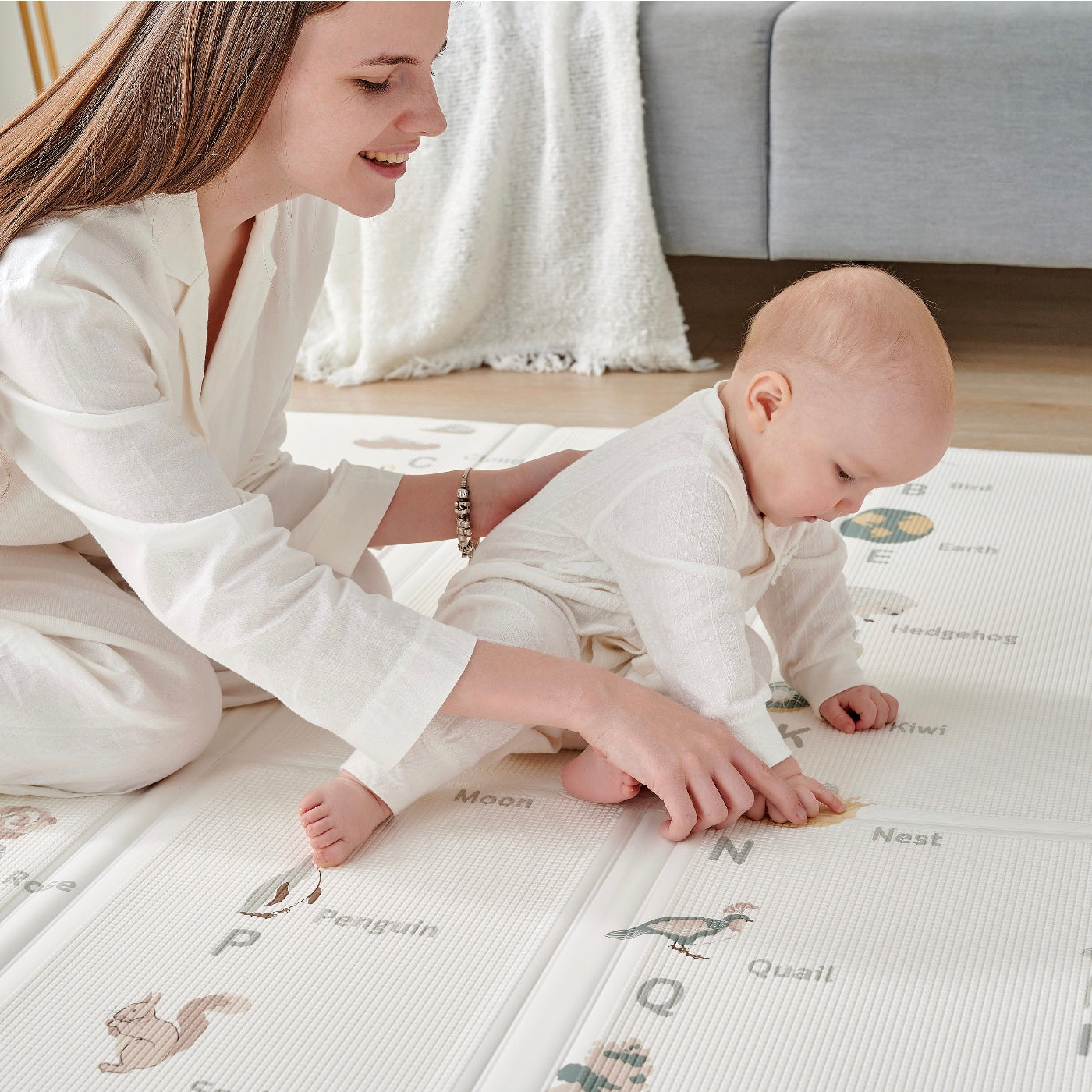 Pattern 2
Nature Alphabet
As your child gets older (14 months+), they will start to build their language skills by learning objects from images. Following the Montessori style, our mat features more realistic images rather than exaggerated cartoons. This way the knowledge from the real world will enrich your child's natural ability to imagine and create.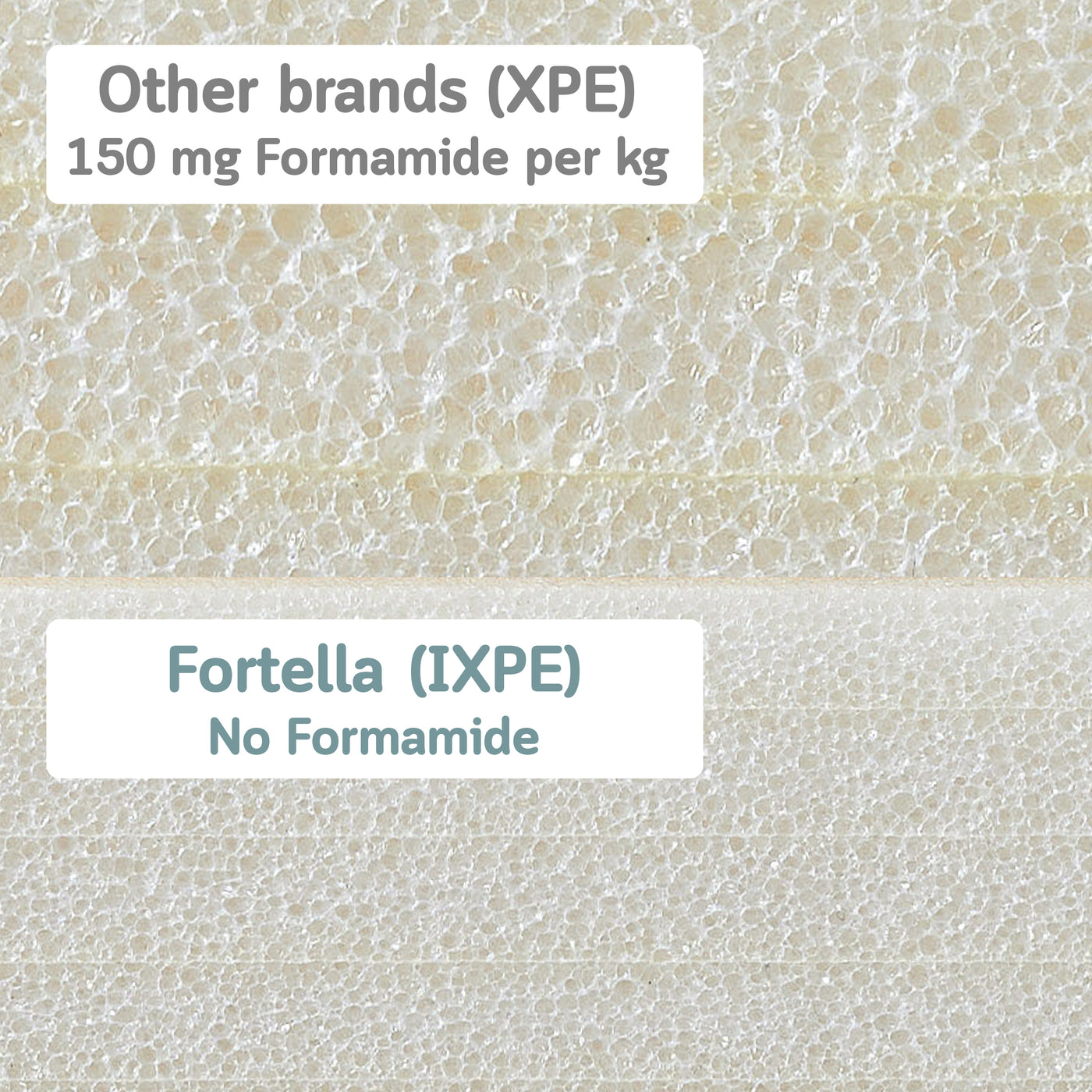 Supeior IXPE Foam
Market common foam mats including XPE, PVC, and EVA are manufactured with chemical foaming agents that can produce a certain level of formamide.
Instead of chemicals, our IXPE foam is manufactured with clean electronic energy as the foaming agent. This fundamental difference enables IXPE to eliminate formamide and become the safest choice for children.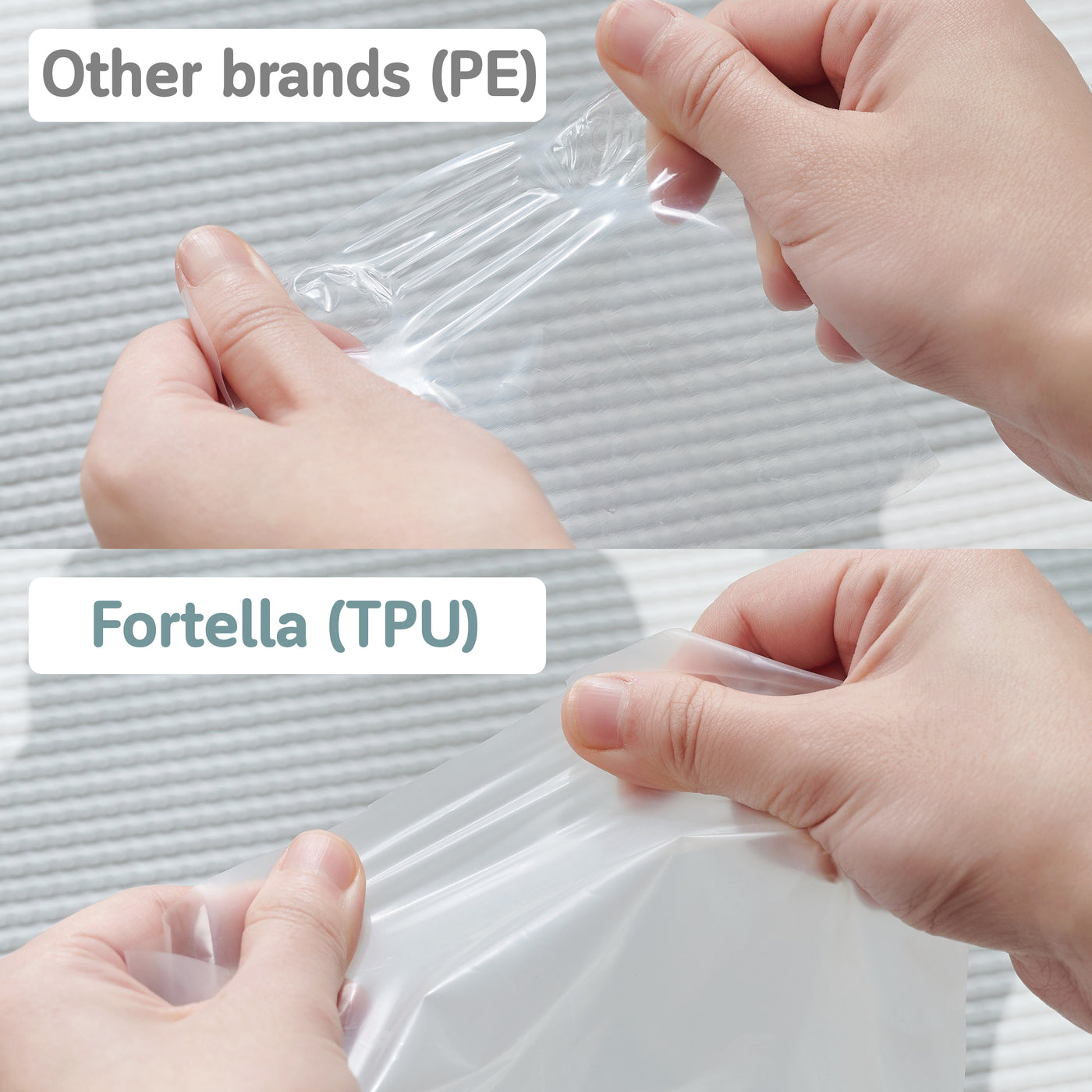 Premium TPU Surface
The membrane of XPE and EVA foam mats is Low-Density Polyethylene, also known as PE or LDPE. It is an affordable but flimsy material also used for disposable bags. LDPE is prone to scratches and collects dust due to electric static buildup.
By contrast, our surface is consisted of Thermoplastic Polyurethane (TPU) that outperforms LDPE in strength, flexibility, and durability. It withstands various temperatures and is highly resistant to electric static buildup.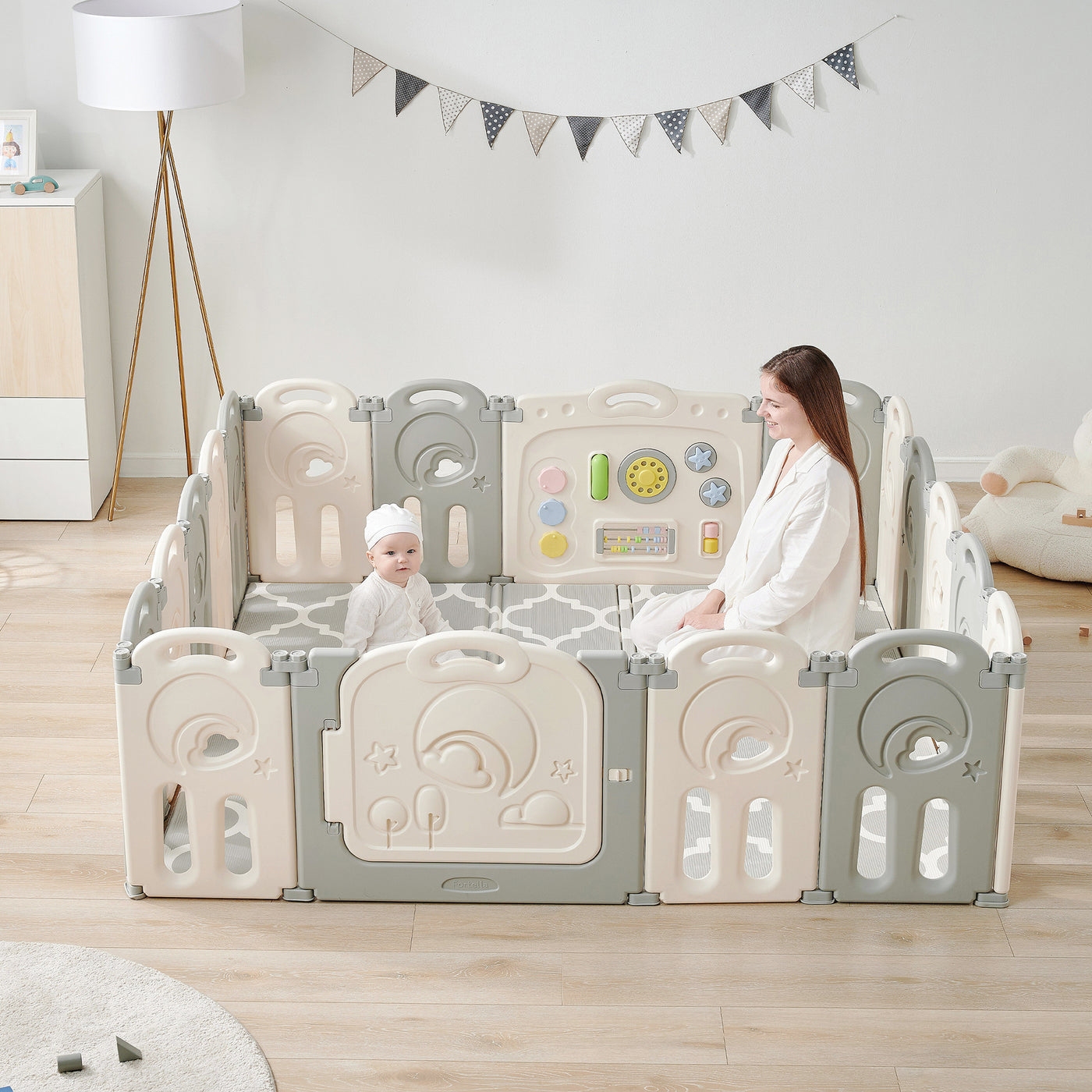 Pairs Up Nicely with Fortella Baby Playpen
Fits perfectly inside an 18-panel Fortella Cloud Castle foldable playpen:
1 x standard fourteen-panel playpen
+ 1 x four-panel extension
Can also be used without the extension set.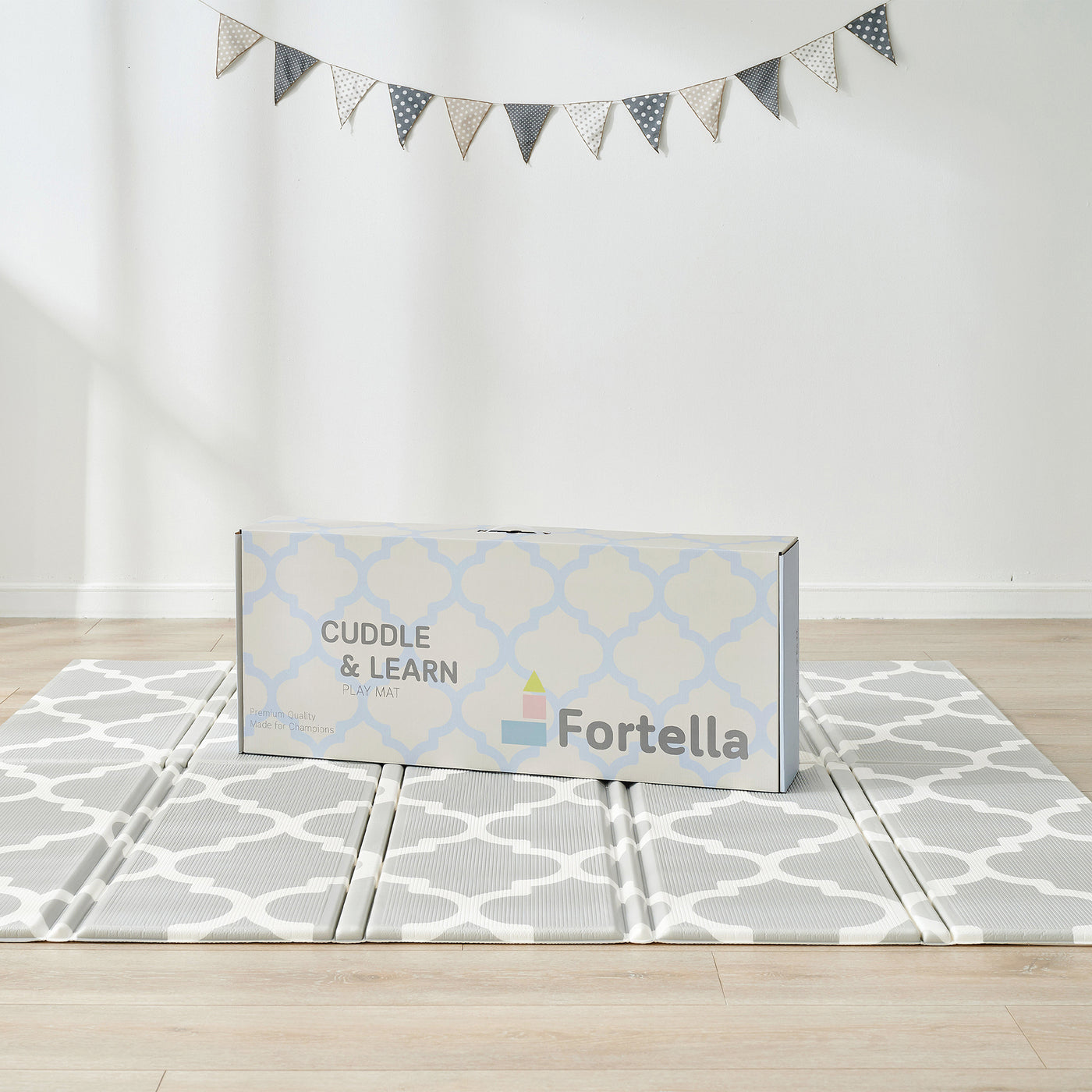 Elegant Packaging
Makes an ideal baby shower or Christmas gift.
Soft and comfy!
We recently bought the Cuddle and Learn Play Mat for our grandson. It was nice and soft for him doing his "tummy time" and his continuous rolling over!! He seemed to feel very comfortable with it and that made his mom and dad happy as well as us. Very happy with the mat and the carrying bag is very durable and helpful to keeping the mat clean when not in use. Thank you!
Perfect mat for my son
I love this mat. It doesn't have strange smells like others that I bought. It also thick enough. The design is muted, which doesn't distract my son from his toys and matches with my house color scheme. Highly recommend this mat.
Best play mat on the market!
The quality of this mag is top notch. It is so comfortable, soft, and durable. We love how waterproof it is for our baby who is a happy spitter. Also love how cute the design is. Perfect for our space. And our boy absolutely loves his new play area.
Perfect play mat
My son loves his Cuddle & Learn Play Mat. It fits perfectly under his Fortella play pen. The best part is how easy it is to wipe clean. If you're looking for a high quality, safe and comfortable play mat, this is for you!
Good playmat for baby
Good size play mat. Big enough for adults + baby. Very versatile since it is double sided. Easy to clean. No toxic smell. Like the fact that it comes with a bag so it is easily portable. Baby likes it.
Glad we bought this
We have had a lovely experience with the Fortella Cuddle and Learn Play Mat. This was especially helpful when our little one first practiced walking since it cushioned her fall when she slipped. It was a huge improvement over the hard floor. I definitely recommend it.
Soft and spacious play mat
We love the Fortella play mat! It's soft, colorful, and easy to clean. Our little 1 year old daughter really likes it: she enjoys playing with the different textures and shapes on the mat. It's also very durable and safe for her to crawl and roll on. We highly recommend it to anyone looking for a fun and cozy play mat for their baby!
We love this mat so much!
Amazing mat! Goes great with the play pen on the website. Very easy to clean and good quality.
Perfect for a crawling baby
The playmat is soft, large, and thick! No chemical smells. The best platmat I bought.
Great Playmat for Babies!
I love that this playmat folds up into a nice neat package and is portable to take to different locations. Great for tile and wooden floors!