About The Foam Ball Pit
Bring an original sensory delight to your child with The Foam Ball Pit by Fortella. Great for developmental benefits including eye-hand coordination, body awareness, motor planning and more.
Key Features
Includes 200 pit balls at 2.75-in diameter
Handmade
Soft yet durable fabric with a pleasant touch
Removable cover for machine wash
High density foam at 2.5 PCF
CPSIA & ASTM certified
Ages: 6 months+
Pit (in): 35.4''D x 11.8''H x 2''T
Ball (in): 2.75''D
Fabric
95% polyester and 5% spandex with a soft and pleasant touch
Remove cover for cold or warm machine wash. Air dry.
Pit Balls
Food-grade PE
Wipe clean with a damp cloth or rinse with cold water. DO NOT wash in dishwasher.
A Classic Favorite
The Foam Ball Pit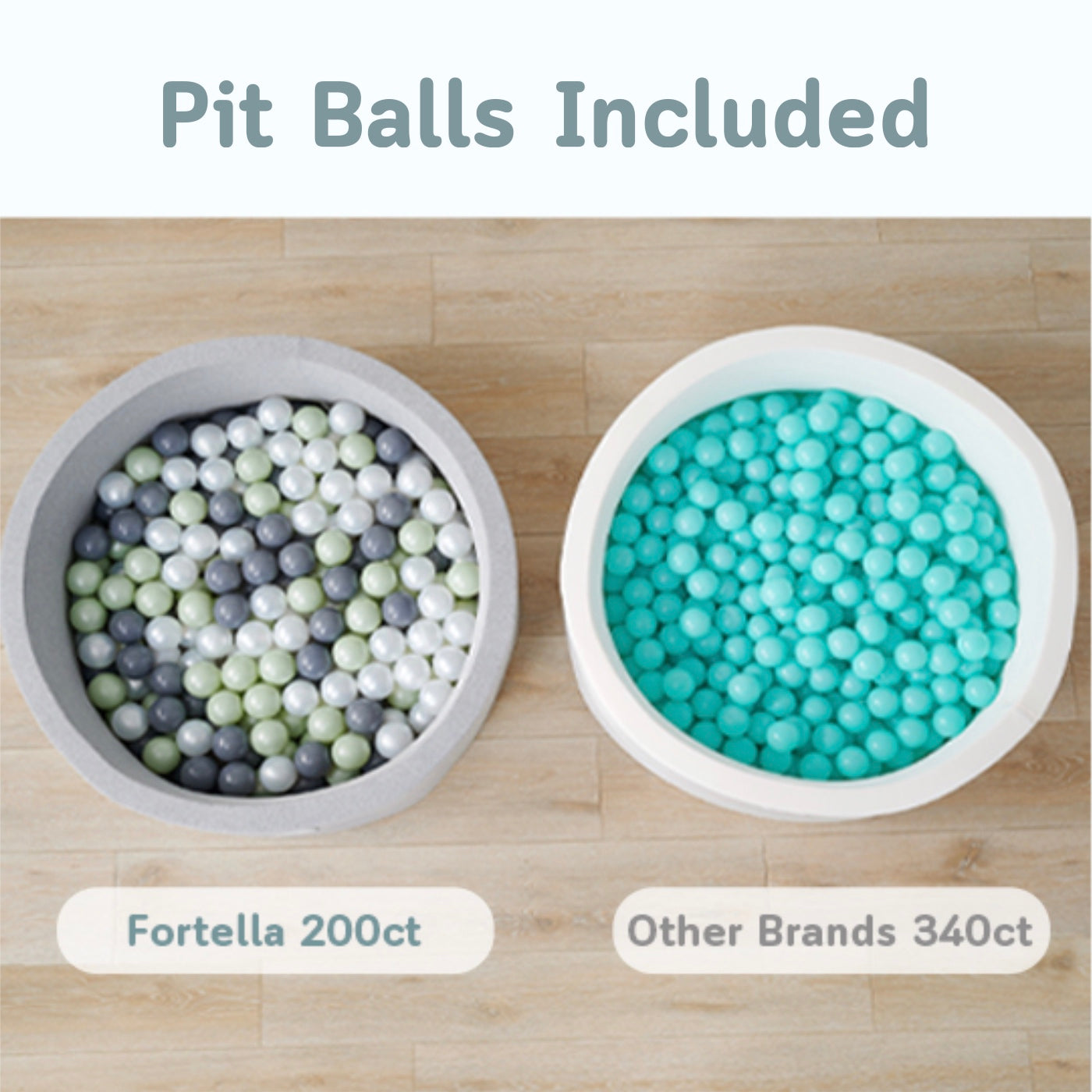 Comes with 200 pit balls at extra-large diameters of 2.75 inch. Equals in volume to 340-count of 2.3'' balls, or 420 count of 2.15'' balls.
Made of food-grade PE plastic, Fortella pit balls are thickened to be adult-friendly crushproof, withholding over 220 pounds of weight.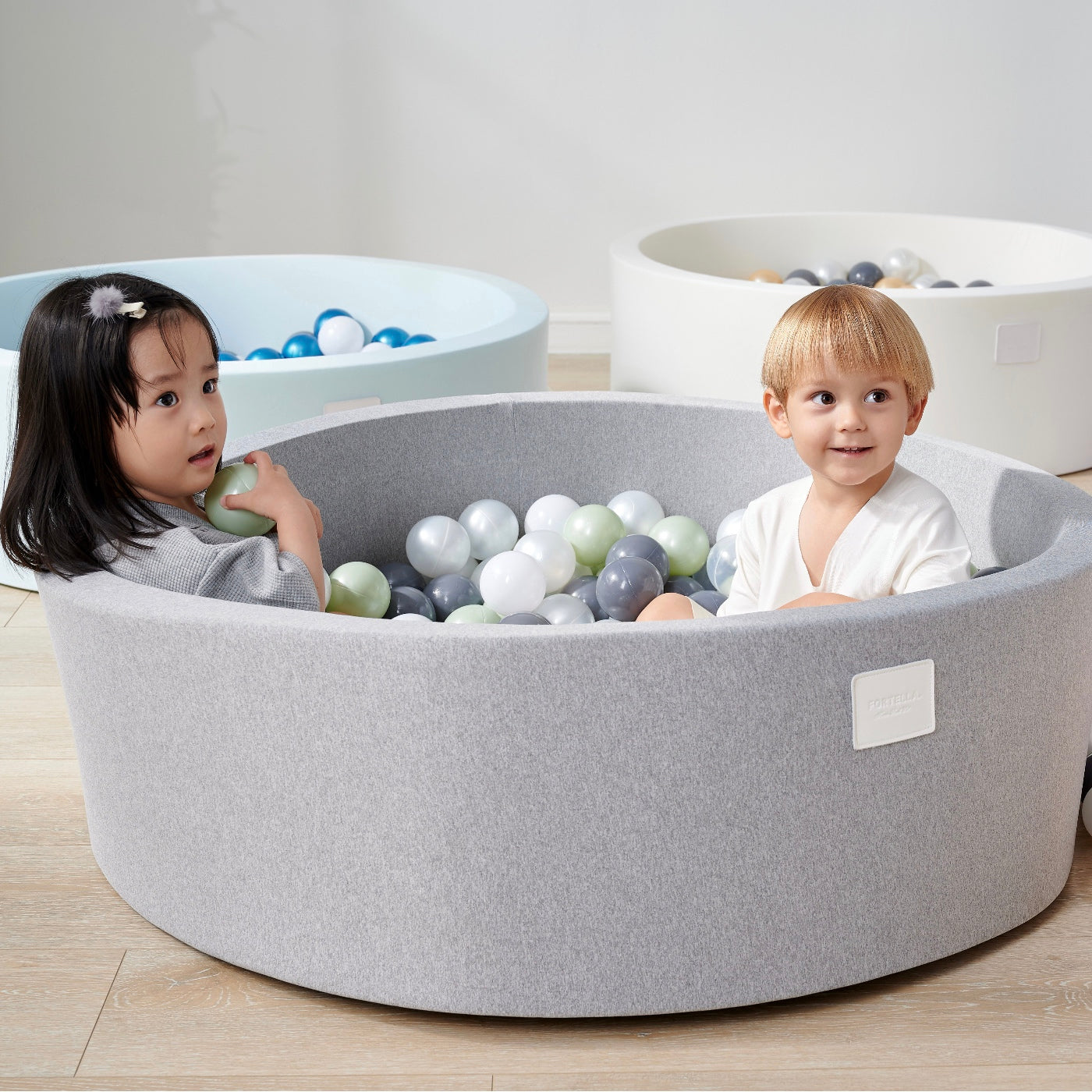 Soft Yet Durable
Fabric
The combination of 95% premium polyester and 5% spandex gives our fabric a pleasant touch along with the ability to resist shrinks and dirt. The latter is lacked in ball pits made of cotton or velvet.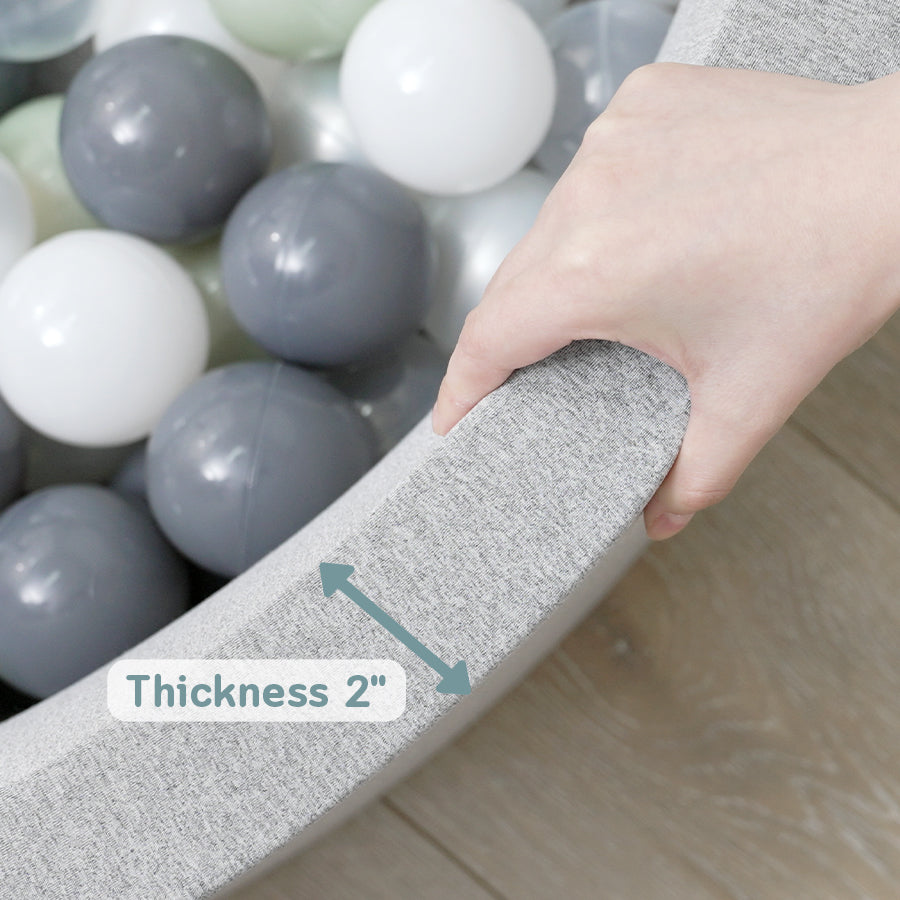 Finer and Denser
Foam
At a density of 2.5 PCF (pound per cubic feet), our foam is 60% denser than the market common of 1.5-1.6 PCF. A denser foam allows The Ball Pit to achieve superior sturdiness and durability, preventing unrecoverable creases or collapses for a longer lifespan.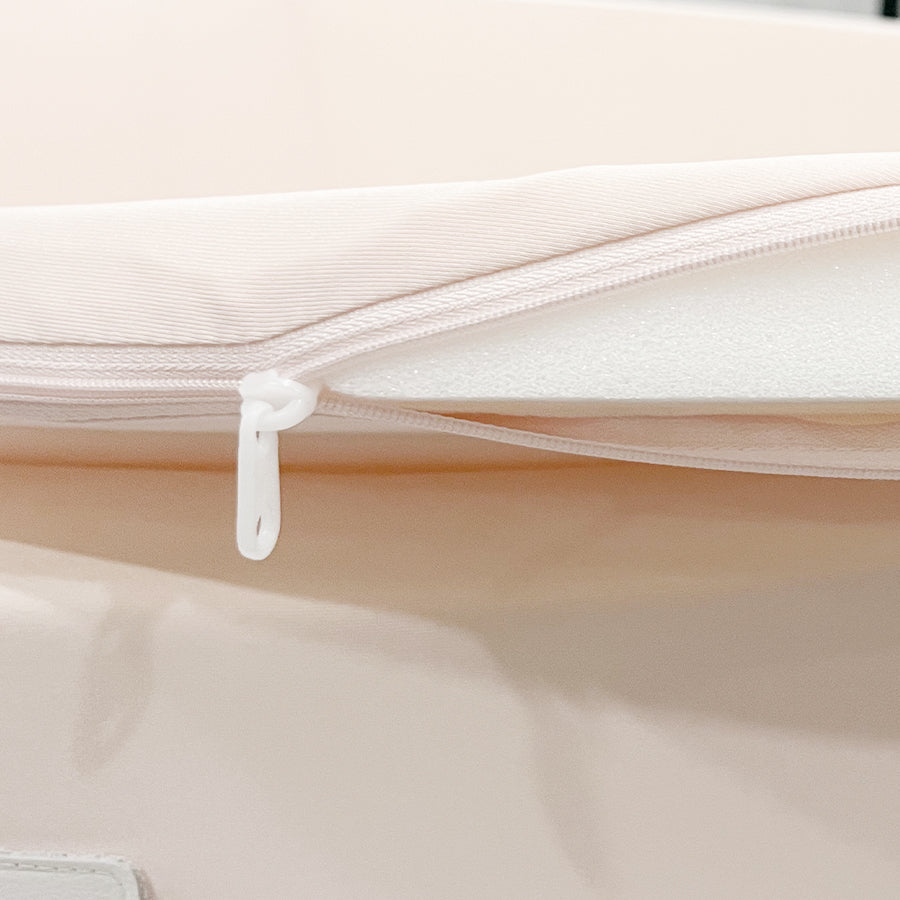 Removable Cover
Remove the cover for warm or cold machine wash. Delicate dry or air fluff.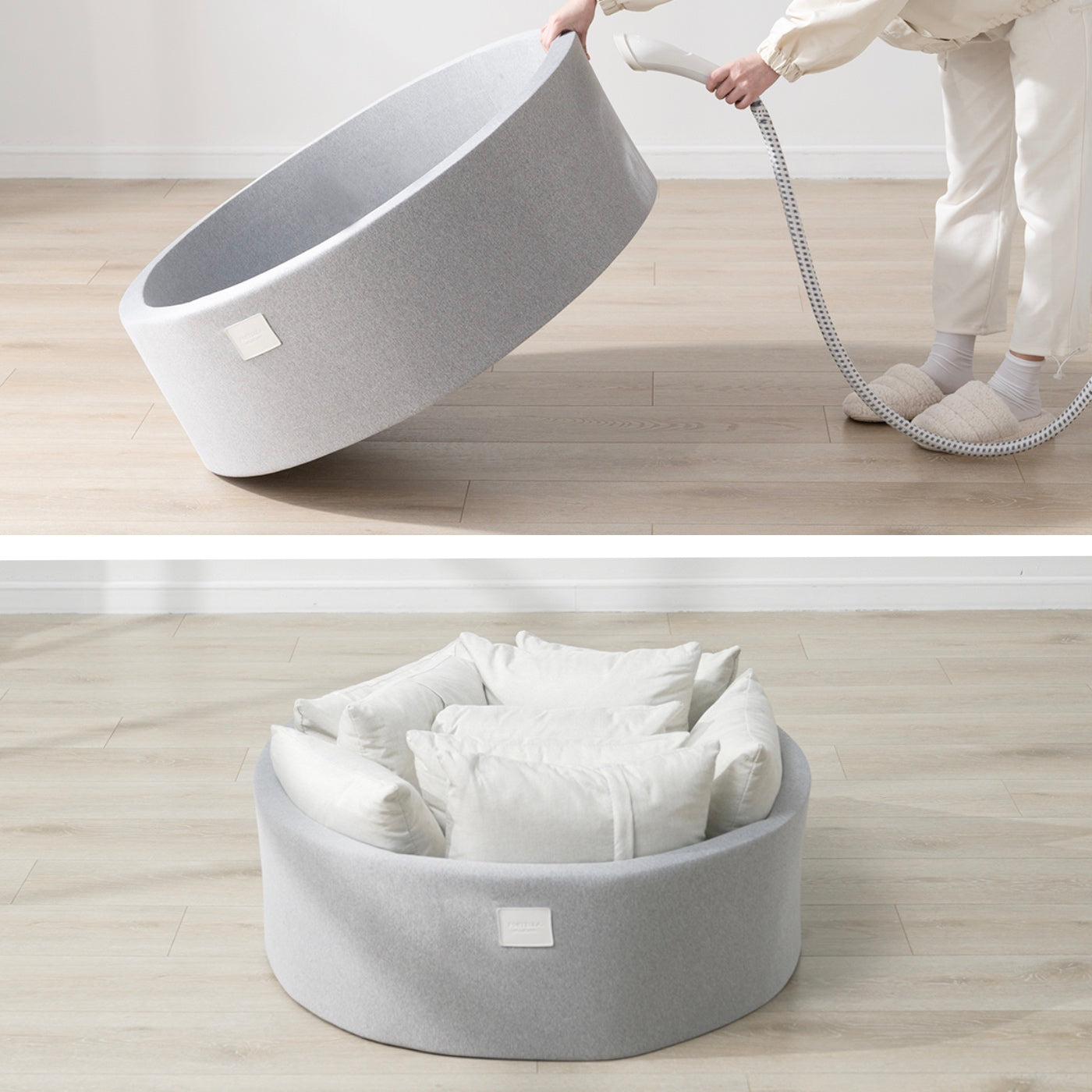 Tips
Recovering the Pit from Packaging
Method 1 - Iron it (Recommended)
1. Use a hair dryer/steamer to iron the creases for 15 min (70% recovered)
2. Then wait for 2 days (100% recovered)
Method 2 - Stuff it
Stuff it with pillows, quilts, or winter clothes. Wait for 2-3 days for it to round.
The Foam Ball Pit is vaccum packaged for hygienic and sustainable transportation. Its creases are fully recoverable. After a 15-min hair dryer ironing, the pit will become rounded in 2 days. It may take more than 4 weeks if left without ironing or stuffing.
It is highly recommended to iron the creases with a hair dryer for 15 to 20 minutes, which allows the pit to become completely rounded in a timely manner.
If using a hair dryer, spray the pit with water before ironing it. Or use a handheld steamer instead of the hair dryer. Steam is the key to help the pit plump up more.
Wonderful Ball Pit
Such a nice ball pit! The most beautiful colors, good quality and a great round shape. I love the look and my baby loves to play with it. Definitely recommend!
Superior ball pit
Arrived quickly and packaged well. The foam took about a day or so to expand following directions with pillows inside. Ball quality is fantastic and I know it will last longer than those cheap PVC balls. Not concerned about my baby playing with the balls because there is no lead in the product. Just the right size and amount of balls. Little pricey, but totally worth it. Only thing I would recommend are more color options.
The single best piece of entertainment we have found for my 14 month old twins!
This is a great ball pit that comes with 200 very high quality balls. The foam pit comes shrink wrapped and the instructions say to stuff it with blankets and pillows for a few days to help it puff up and turn round. I did this and it did help some, but what really did the trick was using a steamer (the garment kind). It's still not perfectly cylindrical, but looks way better than it did when it first arrived. The cover comes off so it can easily be washed. The round foam that goes on the bottom is thick and adds great padding
The foam is thick and durable. My 14 month old twins both fit in it, although it is a tight space for two. However, they LOVE it. The first thing they do when they enter the room is go to the pit. They get in and out, throw balls in and out, and just love the sight of this thing. They'll even cruise along the side of the pit and crouch to touch the balls and it gives then plenty of exercise every day. This is the single best piece of entertainment we have found that will entertain them both for a good 30 minutes at a time.
Great fun for a child!
Got this ball pit to help keep our daughter contained and entertained, it works great! She loves how soft anf comfortable the surround and base are, they are sturdy enough to keep her pretty contained. If she really wants she can climb out, but this holds her and the balls in really well. The balls are a lot of fun, they are small enough for her to easily grab and play with, it makes for a big mess when she tosses them out of the pit, but easy to clean up. Thankfully this is super easy to assemble and play with.