About The Montessori Organizer
Equip your child with the Montessori Organizer for teaching themselves self-regulation and independent play. Designed for kids, this 4-in-1 organizer makes toy and book storage modern and simple. 
Key Features
High capacity
Waterproof and anti-mold
Smooth edges and rounded corners

Made of 100% food-grade High-Density Polyethylene plastic
CPSIA and ASTM certified

Ages: 24 months+
Graphic instructions included in package
To be completed by 1 adult within 30 minutes
Weight: 30 lbs
Dimensions (in): 35.5''L x 13''W x 35.5''H
Made of 100% food-grade, heavy-duty HDPE plastic
To maintain, wipe using a damp cloth with mild detergent as needed.
A Montessori Experience
Display your child's favorite toys and books on top or in bottom bins. Use the middle three drawers for storage rotation or remove them to make more display sections.
Watch your child become more confident in their abilities as they naturally identify their interests and create order all on their own.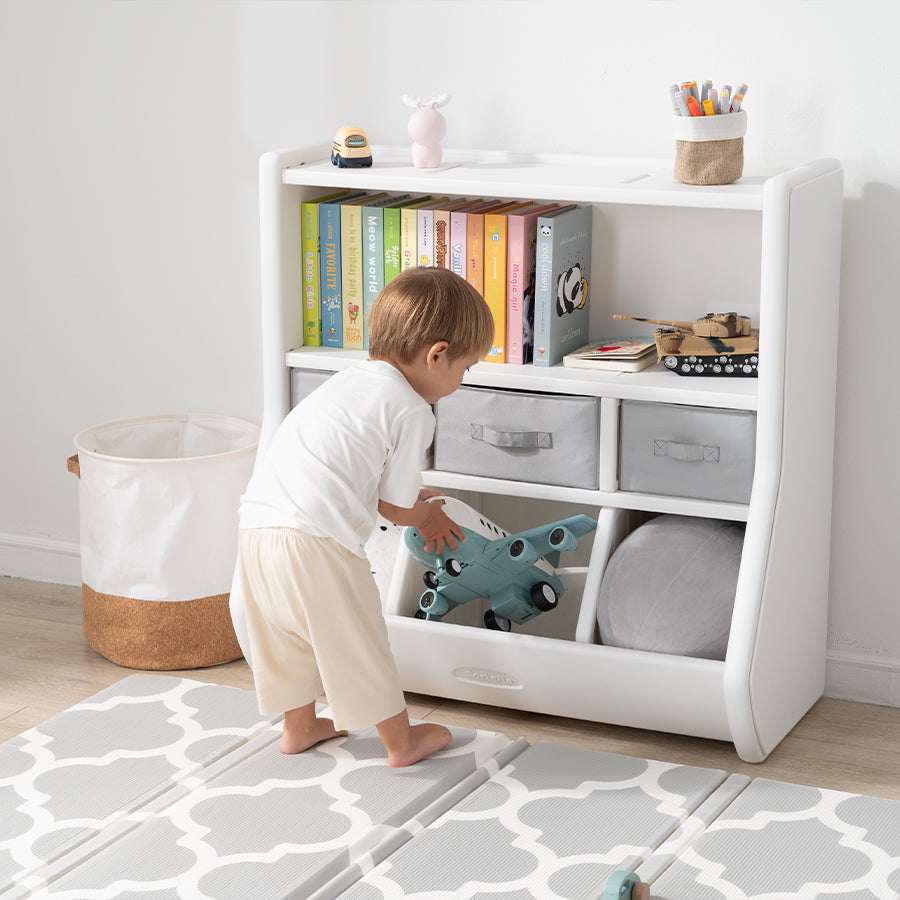 Made for Children
At 35'' high, this organizer is just the right height for kids to pick up or put back their books and toys confidently at their pace.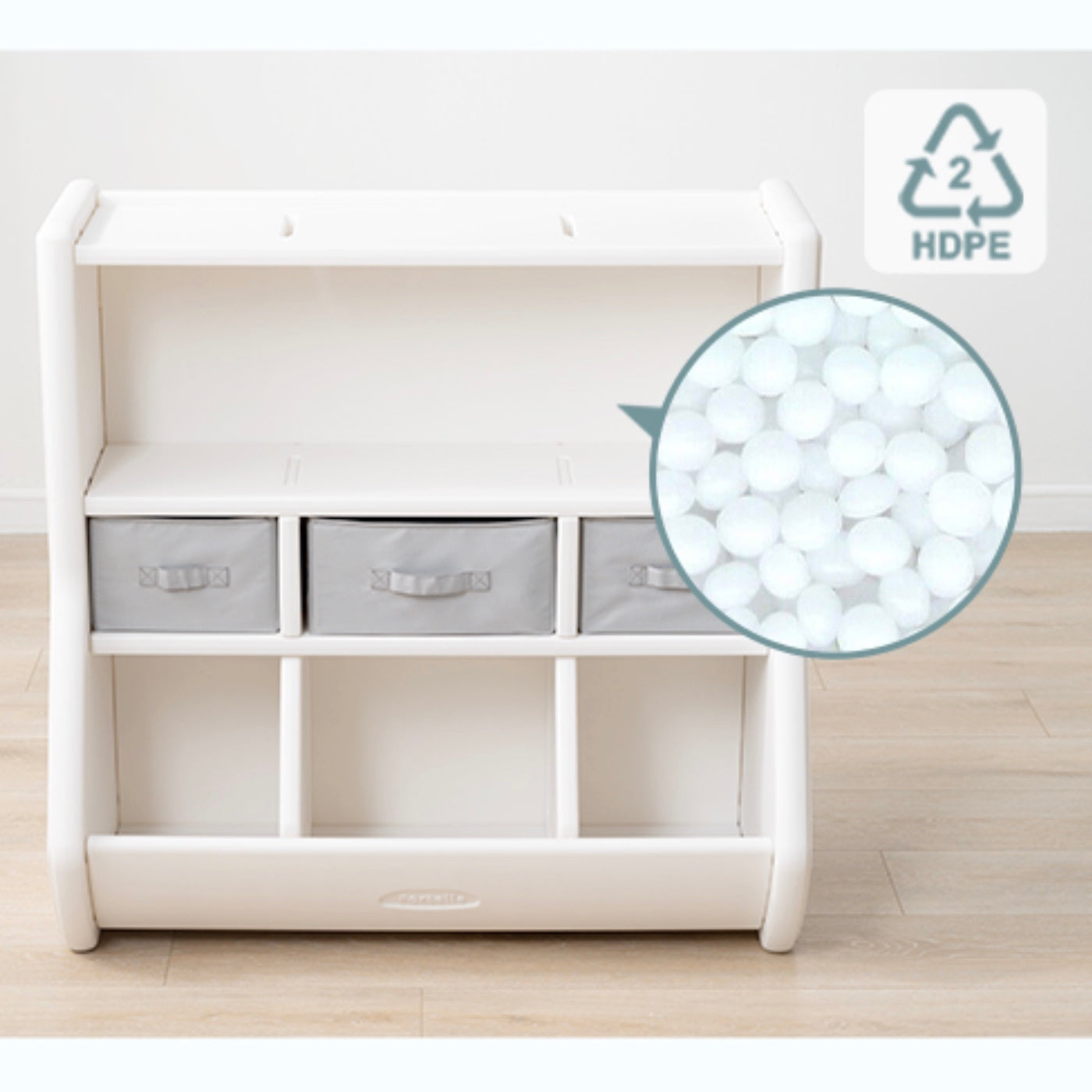 Safe Material
In comparison to engineered wood which inevitably emits formaldehyde and acetaldehyde, this HDPE* organizer is free of those chemicals and other toxics including BPA, PVC, Phthalates, Lead, and Latex.
Certified in U.S. Children's Product Standards CPSIA and ASTM.
*High-density polyethylene, a type of heavy-duty and food-grade plastic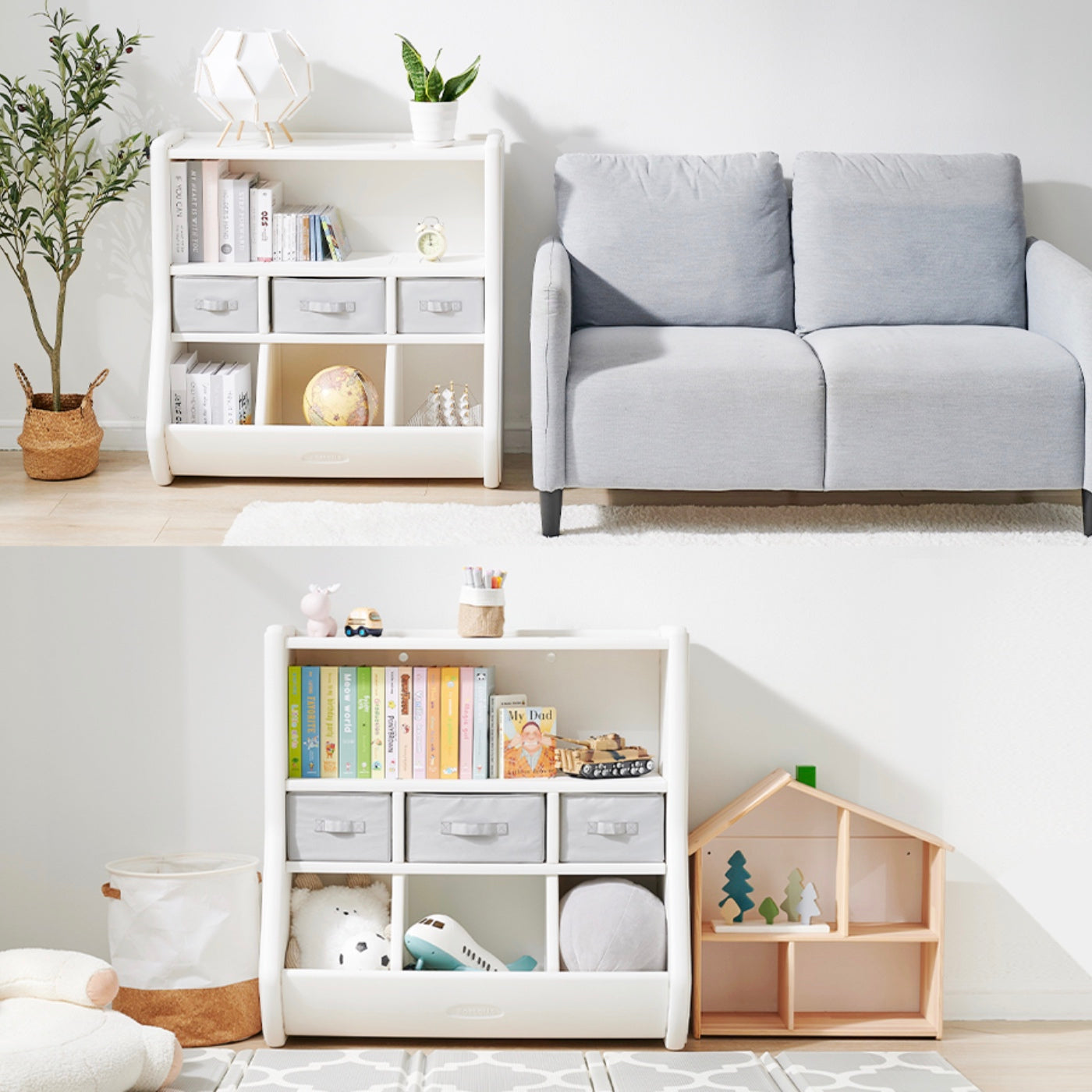 Versatile
Open cabinet for living room or toy storage for playroom.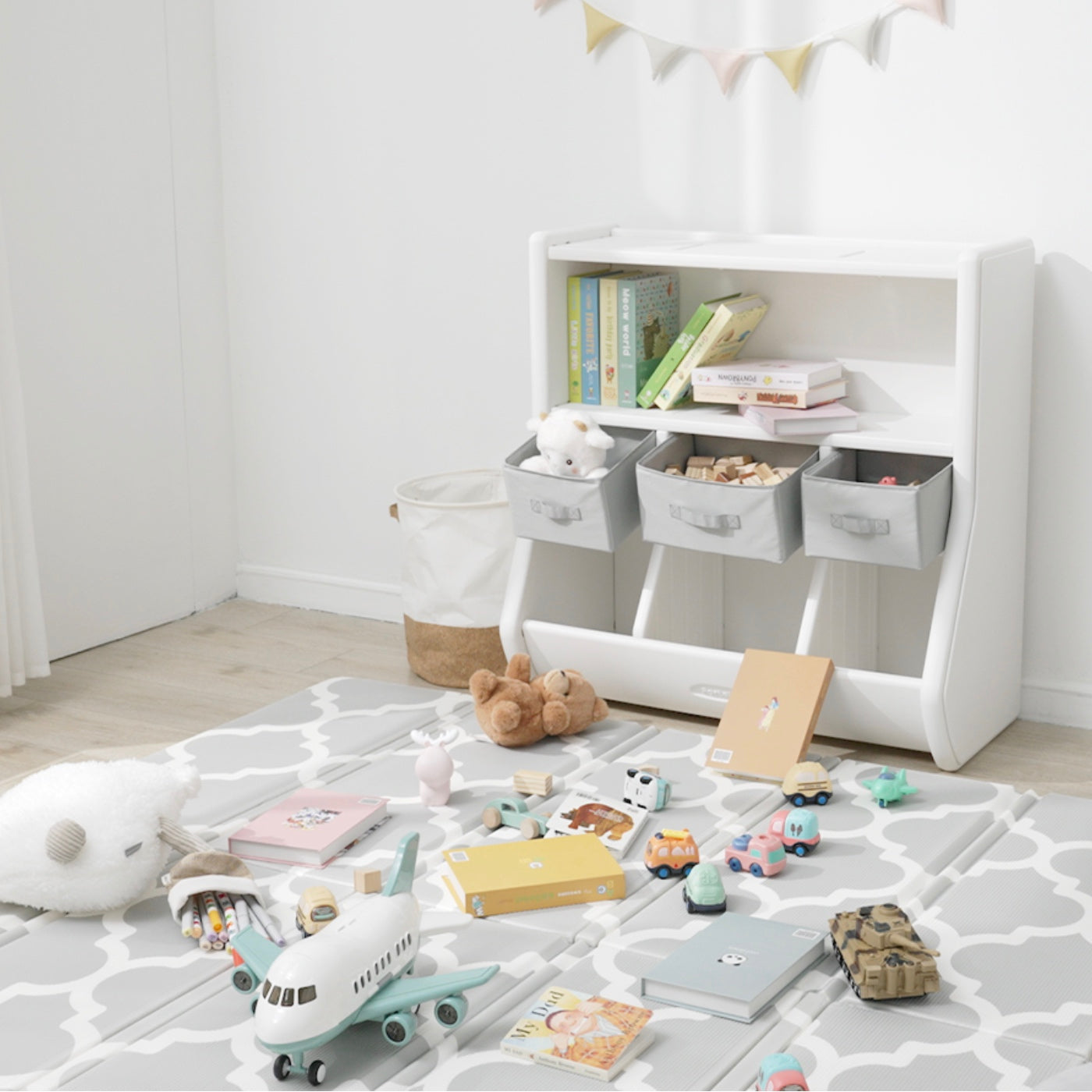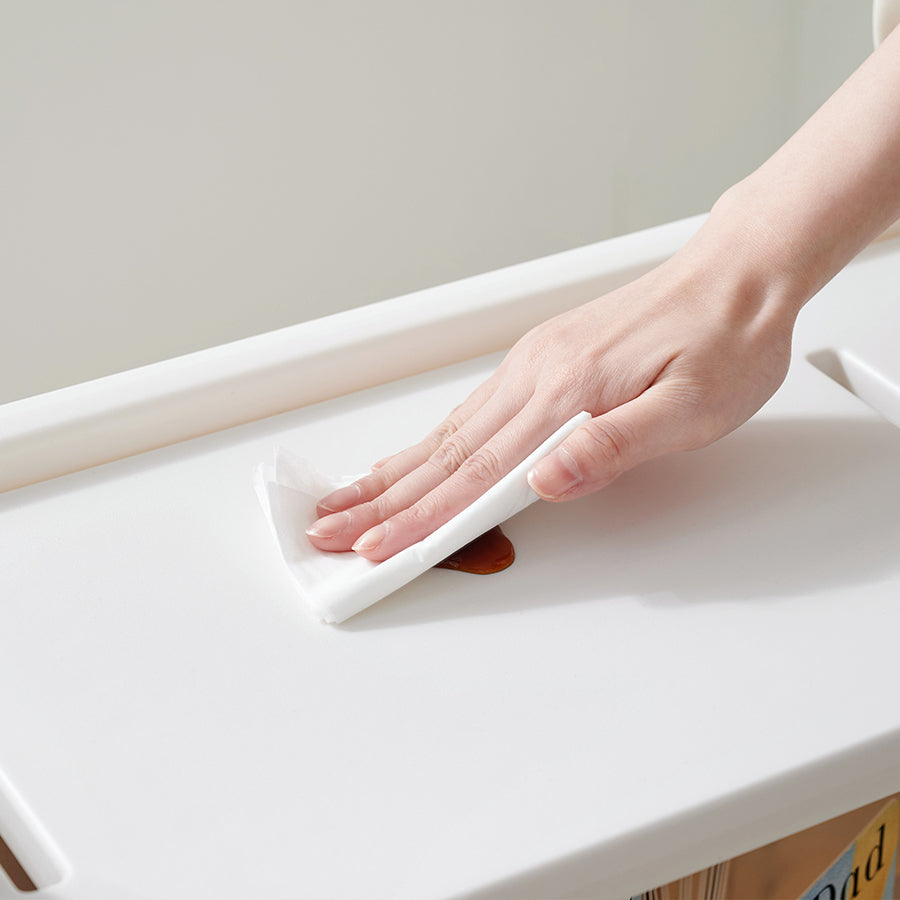 4-in-1 High Capacity
Includes a display shelf, a bookshelf, 3 removable drawers, and 3 bottom bins for a great amount of storage.
Easy to Maintain
Wipe clean with a damp cloth for any marks/paints/spills. Unlike wood, HDPE plastic is stronger as well as scratch- and stain-resistant, making it an ideal material for active kids.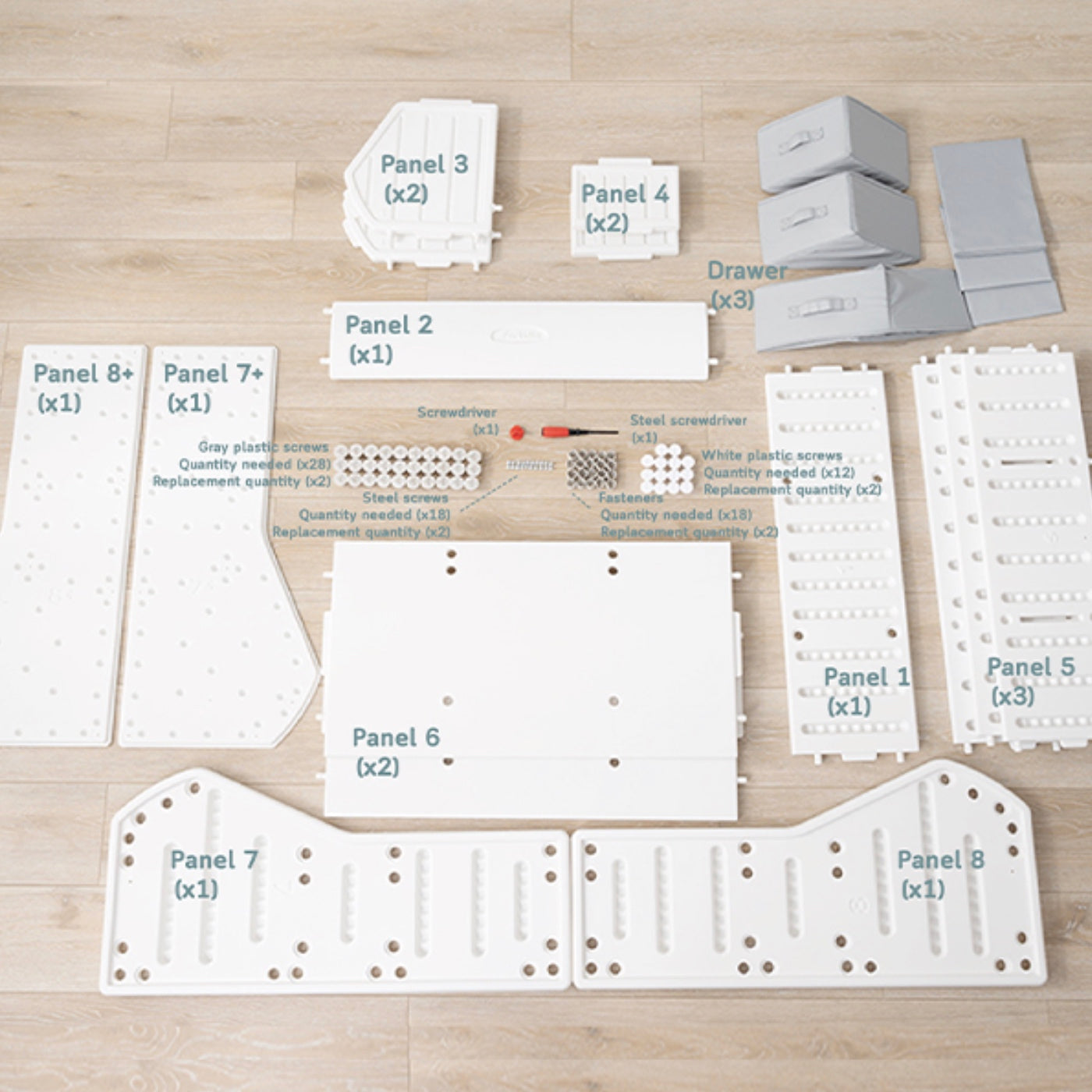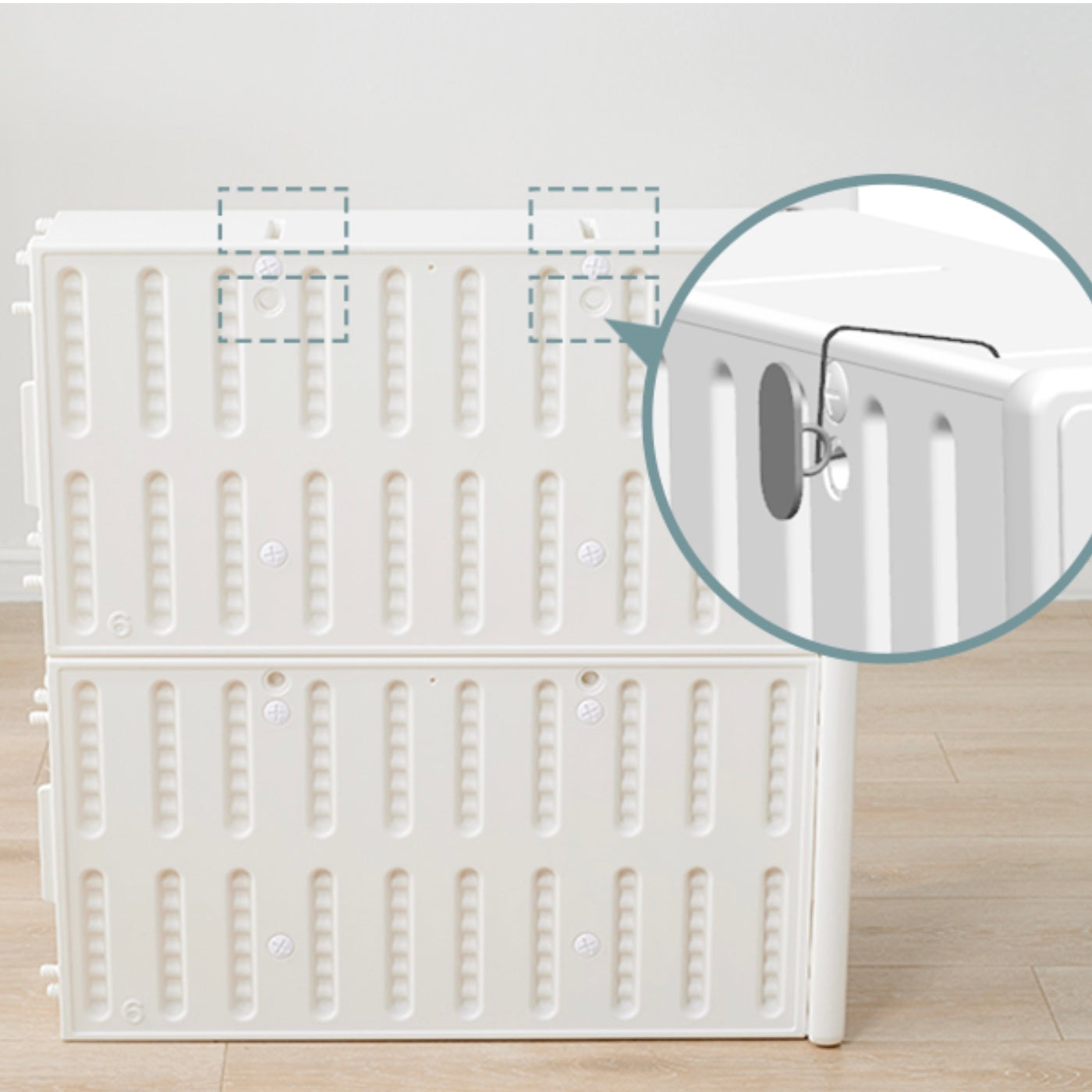 30-min Assembly
Quick and easy assembly with installation video available.
Screwdrivers-included complete package.
Anchors/Wires not included
Wall Mount
Use 2 single-bracket anchors if wall mount is desired.
Ensure wire length >= 12 inches
Great!
I think we are really going to love this toy organizer (baby has not made her grand entrance yet)! Compared with the dresser we put together before this, the toy organizer was SO EASY to assemble! We don't want to accumulate a large number of toys, so I think this will be a good size for us. Love the materials and how it is made :)
Montessori Organizer
Love this! Great material and a great look. Will last for a long time for many years but initially will start out in our newborn's nursery. Husband put it together very easily and quickly! I love that it has bins on the bottom and a bookshelf, etc.
Love it
Love organizing my grand children 's things.
Perfect for playroom!
Loving this little toy organizer! My husband put it together in about 25 minutes and it works perfectly in our space. Good quality and fits so much! Great for organizing toys and books. Highly recommend!
Large, durable toy storage
If you have a toddler, you know how many toys and books they accumulate. I wanted something large enough to really store a ton of stuff, and this meets that need! It's very large and I like the material it's made out of. The plastic material is soft enough for toddler hands, but still very strong.
I was able to fit a bunch of toys in the bins and fabric bins, and you can fit probably around 30 to 40 books on it as well! It's pricey, but nice! Not too bad to assemble, but will take you some time. Just follow the instructions carefully.
Great addition to toddler room
This shelf is the perfect size for my toddler sons room. It's not too tall or too wide and it has two shelves to use for organization. The cubbies and bottom space we use for toys. It's easy to clean and I love how it's easy to move around because it's plastic and not too heavy
Easy & sturdy
I was hesitant on this because I didn't want something to large as I has looking for something a bit smaller than what my girl's currently have but not to small to not fit all their baby dolls & other toys in. This worked perfectly. Instead of books I was able to line up their dolls & stuffed animals, cubbies but random toys & I'm still not done organizing stuff yet. Easy to put together, took me no time because the parts are all labled with numbers & the directions were very clear. Screwdriver & everything is included. Wiped it down with a sanitizer wipe. I'll post an updated picture when I finish adding all the toys in it. Color is versatile for a boy or girl rooms. This is definitely worth it!
Two thumbs up
Love this piece of furniture! This will be a long lasting item in our household. It is made from a very thick, strong, heavy duty plastic material. You can even feel that in the weight of this product. It was extremely easy to put it together in, I did so in 45 minutes, and that was with my two year old "helping me" the whole time 😅. I was happily surprised to find the package even included the screwdriver I needed to complete building it! Also shown in photo is my cube storage (not included) which fit perfectly on top.